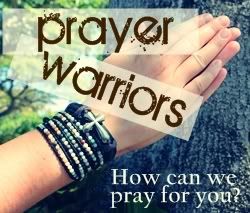 I am so delighted to talk with you today about a topic that y'all know is very very dear to my little heart. That is the subject of prayer. I recently discovered a fantastic project called "prayer warriors" and the goal of this project is to join together with other Christians and pray for one another. This has been happening for a while now and I am delighted to have the opportunity to become apart of it. There are so many of you that have taken so many countless hours and spent time on your knees for me crying out to the Lord and I am honored to pray for many of you in return.
I have said this often but I truly love "bloggy world". I am amazed by the way that we can reach out across city, state, and country lines to meet and inspire one another. I also love that we can stand together and support one another during hard and difficult times. And that is really my main reason for joining in on this group: I really want to encourage others by letting them know that so many people are praying for them.
SO if there is anything specific in your life that I could spend time praying for please feel free to email me your prayer request to: caravansonnet@gmail.com.
Please know that your request will stay confidential with me and if you have something too personal to share but would still like prayer just please let me know that you have an unspoken. God already knows what is on your heart!
Thank you for all of your prayers that y'all have prayed for me this past year. I am so blessed and humbled. I am so thankful!!